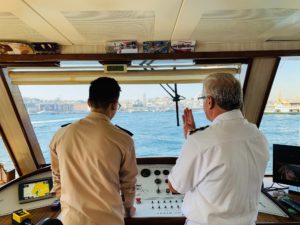 The Master Mariners of Canada engage with the maritime community to improve the knowledge and expertise of maritime professionals.  One of its mandates is to mentor cadets and junior officers.
As a recognized organization, the Master Mariners of Canada provides cadets and junior officers the opportunity to contact experienced maritime professionals for advice and guidance.  These mentors share expertise and help inspire, guide and empower emerging maritime professionals. This process can assist mentees in learning from experienced professionals, building meaningful relationships, and further expanding their careers. 
If you are interested in having a mentor or having a career related question answered, please email below and you will be put in contact with the appropriate person.
Regards,
Master and National VP: Captain Eben March
Email: Divisionalmasternfld@mastermariners.ca
Master Mariners of Canada